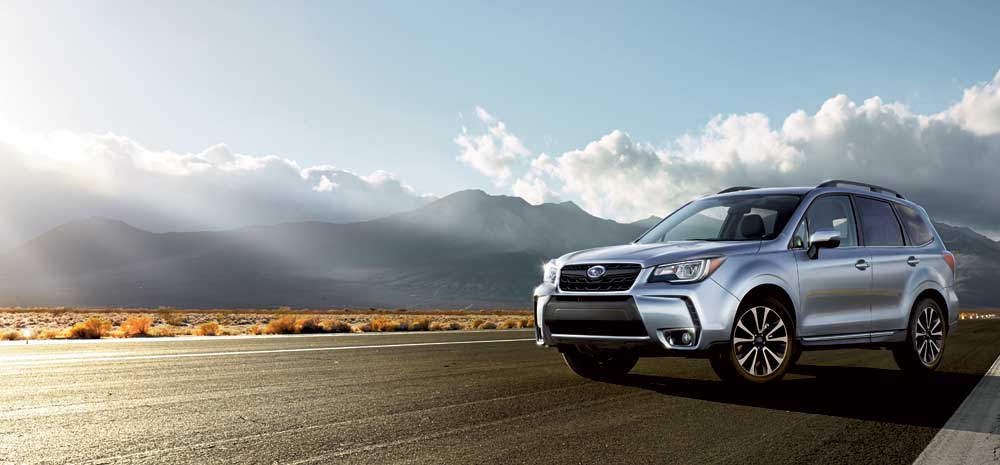 Budd Baer Subaru Makes Comparing the Subaru Forester Models to the Competition Near Pittsburgh Easy
The rivalry is heating up between new compact SUVs here in southwestern Keystone State, and with it, your options are becoming as abundant as ever. We'll bet you're likely already considering plenty. What's more, on the face of it, it can seem like nearly any set of features, from performance and safety to those in-cabin for the trip, can make the grade for your needs. It's understandable if, at this point, things appear a little more complex than you thought.
Have a read, and we think you'll see where the new Subaru Forester excels. For one, it's roomier for both passengers and cargo than tried-and-true challengers like Mazda CX-5. Moreover, it's a more energetic ride than luxury options like Buick Encore, offering better horsepower and torque. It's even a model of sharper handling curb to curb than the bulkier GMC Terrain. Finally, it showcases standard Subaru Symmetrical All-Wheel Drive to outclass them all on the trail. But these aren't all. Dig a little deeper, and we're sure you'll see not only how our automaker's celebrated sport utility upholds the "Confidence in Motion" namesake but also why it garners praise from the industry and long-time customer alike.
| | | | |
| --- | --- | --- | --- |
|  Subaru Forester |  Mazda CX-5 |  Buick Encore |  GMC Terrain |
Subaru Forester vs Mazda CX-5
From snow to off road terrain and all the city streets and highways in between, the Forester lets you tackle them all confidently with standard Symmetrical All-Wheel Drive on every model. The CX-5, on the other hand, comes with standard front-wheel drive with all-wheel drive equipped models costing a higher price.
The Forester is more spacious than the CX-5 is, offering 111.9 cubic feet of passenger volume compared to 103.6 cubic feet of space in the CX-5.
The Forester gets up to 26 mpg in the city and 33 mpg on the highway, compared to the CX-5 which gets up to 25 mpg in the city and 31 mpg on the highway.
The Forester also offers 16.6 gallons of fuel capacity while the CX-5 offers 14.8 gallons, allowing you to travel much further on a single tank of gas.
Subaru Forester vs Buick Encore
Longer by wheelbase and wider of track front and rear, Forester offers the promise of stability and a firmly planted ride that's not quite matched by the new Encore.
Subaru Symmetrical AWD once more enables Forester to pull ahead of the competition, coming standard against Buick's proprietary optional offering.
Forester even offers better horsepower, its 170-horsepower SUBARU BOXER engine excelling that of Encore, with a turbocharged 138-horsepower, 1.4-liter inline four-cylinder. The same goes for torque, 174 pound-feet of turning and pulling power to Encore's 148.
With a semi-independent rear suspension, Encore can seem less comfortable for rear passengers than Forester, too, the latter offering one fully independent.
Subaru Forester vs GMC Terrain
Remaining true to Subaru excellence, Forester and its permanent, always-on all-wheel drive continue to top models like the new Terrain, who offer AWD only optionally.
Ours even goes the extra mile with better fuel capacity, 15.9 gallons to 14.9, making for fewer trips to the pump.
Likewise, for a sharper turning circle curb-to-curb, meaning better handling as well as maneuverability in tight spaces, it's Forester that comes out the victor. GMC's SUV is just a tad outsized.
Since 1975, it has been both what our Subaru family loves and what our dealership does to help you be certain of your options. You can take advantage of our knowledge on the entire new Subaru SUV lineup, to be sure, whether from our detailed model pages or the friendly specialists that call our showroom home. But, with a host of competitive comparisons, we've also made it simple to see how that new Forester that's captured your heart fares against other SUV models known for similar experiences, from driving feel to looks to feature offerings and more.
Interested in learning more? We'll be glad to give you the firsthand test-drive experience. When you've pored over the resources we have to offer here on the Web, and you're ready to discover the latest Forester models for yourself, we invite you to stop by our Washington, PA Subaru dealership. We are conveniently located near Pittsburgh, Canonsburg, McMurray, and Waynesburg, PA.

---