The 2021 Subaru Love Promise Community Commitment Award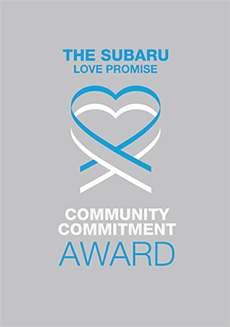 We've been nationally recognized for our dedication to our community and the Subaru Love Promise.
We're honored to receive the 2021 Subaru Love Promise Community Commitment Award. This award nationally recognizes Subaru retailers who are making the world a better place while demonstrating an outstanding commitment to supporting passions and causes in local communities. These efforts are focused in important areas such as the environment, community, health, education, and pets.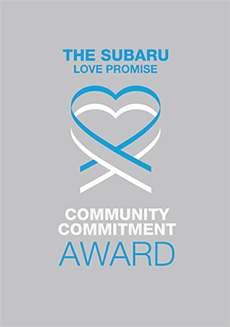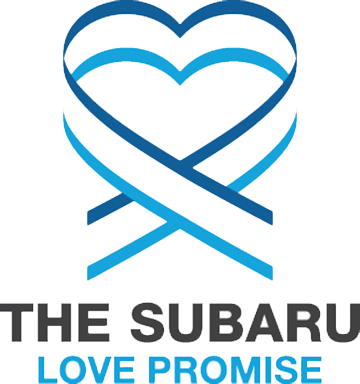 What is the Subaru Love Promise?
Subaru and our retailers believe in making the world a better place and the Subaru Love Promise is our vision of respecting all people. This is our commitment to show love and respect to our customers and to work to make a positive impact in the world.
How is Budd Baer Subaru dedicated locally to the Love Promise?
Our Love Promise can be seen in various partnerships with local charities and non-profits. We're grateful for the opportunity, not only to be a part of our community, but to serve it as well.
Washington Area Humane Society
Trinity School Programs, Washington School Programs, Chartiers Houston School Programs
Washington County Library System- WAGGIN, Local Sports Teams
Greater Pittsburgh Food Bank, Washington County Food Bank, City Mission
Love Promise Stories from Budd Baer Subaru
Subaru and Budd Baer Subaru believe in making a positive impact on the communities in which we live and work. We uphold that belief through our Love Promise Community Commitment. Every month, we select inspiring stories from customers and partners from around our area who strive to support our collective commitment and feature them here
Girls Lacrosse Sponsor - Lauren O
Peters Township Girls Lacrosse Club asked Budd Baer, Inc. to be a team sponsor. They provided t-shirts for all the girls that attended our summer camp. We were so appreciative to be able to offer shirts for our camp attendees and the girls LOVED them! Thank you so much, Budd Baer, Inc.!! You are the best!
---
Science for Students - Jessica M
Budd Baer Subaru's generous donations through their Share the Love campaign has greatly benefited the children of Washington County. This year, many schools and even libraries were shut down. The kids who would usually be able to learn from an in-person teacher suddenly found themselves much more responsible for learning on their own. Luckily, Budd Baer Subaru has been a supporter for learning for many years! One of the purchases that the Share the Love campaign has allowed the libraries to purchase was Science Flix. This is a website that lets students research science topics at their own level. Children were able to look up information on viruses that helped them understand what was happening. Then they would often look through information on military technology, the solar system or dinosaurs. Budd Baer Subaru has helped keep kids learning through this difficult time.
---
Avis Arbor receives Blanket Donation - Nettie L
Through the Subaru Loves to Help initiative, Subaru and its retailers donated 50,000 blankets to nearly 600 local homeless shelters across the country in recognition of National Homeless Youth Awareness Month. More than 500,000 Americans experience homelessness each night. As we enter the season of giving and nights get colder, Budd Baer Subaru partnered with the Avis Arbor Homeless Shelter for Women and Children to help people in need this winter.
---
How Gibbs hopped into our lives! - Andrea T
2020 has had an indelible impact on practically everyone. Most will want to forget this most memorable year, but for many who visited Angel Ridge Animal Rescue, the impact of the stay-at-home, Covid-19 restrictions allowed them to adopt a dog — and that's been a silver lining to a leaden year! It's common for dogs to be the fallout of families and homes broken by the pandemic -- divorce, job loss and moves that could not include the pets. Gibbs was one such casualty. The handsome, but intimidating, 7-year-old, 3-legged, German Shepherd who tipped the scales at 90 lbs. was not going to be an easy placement. Senior dogs are often passed over. German Shepherds are sometimes a prohibited breed by insurers, and large, powerful dogs like Gibbs may be excluded from adoptions to families with children. Angel Ridge Animal Rescue remained open and operating throughout the COVID-19 crisis that shut down or limited the public to appointments only elsewhere. The volunteers continued to provide the available dogs with exercise and attention while Angel Ridge had a record-breaking number of adoptions, driven by people seeking companionship to ease the burden of isolation. Thanks to the impact from partners like Bud Baer, who promoted the adoptable dogs on their social media, Angel Ridge welcomed visitors from all over Pennsylvania, Ohio and West Virginia. Potential adopters poured in as soon as the dogs hit social media vying for the few that were onsite. The demand was so great that most of the dogs had barely planted their paws on the ground before they were whisked away to join their new families. But nobody came to see Gibbs. While the handful of dogs were being interviewed by multiple families, Gibbs hung out on the lawn, sunning himself, taking in all the activity with curiosity. As dogs and people trotted by him, Gibbs tilted his big head and sniffed the air. Several applications were submitted on each of the new dogs and hopeful people departed hoping they would be the lucky ones. As one family unit headed back to their car, they noticed Gibbs. More than an hour later they were still on the lawn giving Gibbs belly rubs and neck hugs. Despite his age, health, size and mobility, the first-time dog owners with six kids had found their dog! Gibbs is now happily living out his second-act with the Saks family in Pittsburgh.
---
Budd Baer Warms Hearts at UPMC - Washington - Breanna S
Budd Baer Subaru and The Leukemia & Lymphoma Society (LLS) recently teamed up to spread love, hope and warmth to cancer patients and their families. During the month of June, customers at Budd Baer Subaru were invited to write personalized messages of hope for cancer patients, which were distributed at UPMC Hillman Cancer Center - Washington on June 28. Along with these encouraging notes, the dealership generously donated 80 new blankets and 30 arts & crafts kits to the cancer center. Shawna Griese, UPMC Hillman Cancer Center - Washington Senior Practice Manager, said that the facility was thankful to be chosen for the program again this year, as they always look forward to the visit and appreciate Budd Baer's amazing annual donation. Bryan Baer, General Manager, and Greg Cron, General Sales Manager, personally handed blankets out to men and women receiving treatment and spoke with both the patients and the dedicated medical professionals who care for them. Tammi Hanak, an LLS volunteer with a personal connection to the cause, joined the delivery as an LLS ambassador. She took the time to get to know each and every patient in the room. One of the patients was particularly touched by the thoughtfulness of the arts & crafts kit because her grandchildren sometimes come with her to treatment. She loved that they can create something together during the visit. She also reminisced about her first car, a Subaru BRAT, and said that she and her husband will always support Subaru because they were able to put more than 180,000 miles on the BRAT over the course of nine years. While Bryan, Greg and Tammi handed out dozens of blankets to patients, Shawna made sure to save enough to distribute throughout the year. "We usually hold on to a few in case we have a patient in for treatment on their birthday, or someone's having a particularly difficult day," said Shawna. She added that the doctors love to go back to the storage room where the blankets, arts & crafts kits, and care cards are kept and "shop" for patients when they need a pick-me-up. LLS is grateful to Budd Baer Subaru's management, staff and customers for giving their time and resources so generously to cancer patients at UPMC Hillman Cancer Center and throughout the Washington community. Thank you for supporting our mission to cure blood cancers and to improve the lives of patients and their families.
---
Budd Baer Subaru supports libraries! - Jessica M
Mark Baer and the entire team at Budd Baer Subaru in Washington, PA deserve a great big thanks for their work to help educate the children of Washington County. Through the Share the Love event, their generous donation has helped the libraries provide books and other materials for the over 6,414 children that participated in the Summer Reading Program. The donations continued to support learning throughout the year, as different kids discovered the resources on visits to their library. The donation even allowed every child in the County access to a website that has scientific articles as well as videos that they can use to help them with school projects. Budd Baer Subaru is our learning champion!
---
Merakey Allegheny Valley School in Coraopolis, PA - Ashley M
Budd Baer Subaru in conjunction with the Pittsburgh area Subaru retailers and Subaru of America a $1,000 donation was presented to the Merakey Allegheny Valley School in Coraopolis, PAThe donation was presented to Dorothy Hunter Gordon, Executive Director for the School during the Pittsburgh Vintage Grand Prix Association's sponsorship night. Dorothy said she is pleased to have (Fill in your dealership's name), the Pittsburgh area retailers, and Subaru of America partner with the school. Merakey Allegheny Valley School (Merakey AVS) is a non-profit organization which provides homes and a full range of services to individuals with all levels of intellectual and developmental disabilities (IDD). The majority of the more than 800 individuals in our care are diagnosed with severe or profound IDD. In addition, most of the people we serve have multiple physical disabilities, extensive medical complications and may require supports for challenging behaviors. Merakey AVS operates facilities in nine Pennsylvania counties: Allegheny, Beaver, Bucks, Butler, Dauphin, Lebanon, Mercer, Montgomery, and Philadelphia.
---
Budd Baer Subaru's 3-Peat for Cancer Patients - Breanna S
For the third straight year, Budd Baer Subaru partnered with The Leukemia & Lymphoma Society (LLS) on their month-long "Subaru Loves to Care" campaign. On June 29, Budd Baer General Manager Bryan Baer and General Sales Manager Gregg Cron personally delivered a donation of new blankets, arts and crafts kits, and cards with uplifting messages for patients at UPMC Hillman Cancer Center – Washington. The blankets will be distributed to patients receiving chemotherapy or other medical oncology treatments. Patients often get cold during treatment – a side effect that can be caused by both their medication and the disease itself – making the blankets a source of comfort even in the middle of a warm summer. The 10 arts and crafts kits were filled with Crayola products and can be used by any children receiving treatment or who accompany their parents or family members to appointments. LLS is extremely thankful to have Budd Baer Subaru and Subaru of America as partners in our mission to cure blood cancers and to improve the lives of blood cancer patients and their families. Pictured (L-R): Bryan Baer, Courtney Hixenbaugh, Shawna Griese, Tia Anderson, and Gregg Cron.
---
Budd Baer Shares the Love with UPMC Washington - Breanna S
As soon as Mark Baer, owner of Budd Baer Subaru, walked into the city's UPMC CancerCenter, the mood in the lobby immediately brightened. One patient, Jacqueline Barnes, quickly stood up with a smile to meet the local celebrity she recognized from commercials. Ms. Barnes, currently in remission, excitedly spoke with Ed Mialki, Budd Baer's Product Specialist and a fellow leukemia survivor who also received his lifesaving treatments at that UPMC CancerCenter location. Budd Baer staffers Gregg Cron and Dawn Phillips joined Mr. Baer and Mr. Mialki to present the blankets. Mr. Baer took the time to go around the room to personally introduce himself and chat with patients and families, who showed their thanks with a round of applause. The treatment center's staff was as excited for the delivery as the patients. The facility received Subaru Loves to Care blankets in 2016 and had been doling them out carefully, saving them for the patients most in need of warmth during their treatments. They were thrilled to be given 80 blankets this year so that everyone who needs one can take a blanket. When it came time to take a group photo, Mr. Mialki and Ms. Barnes were both excited to hold the "Survivor" sign. As the Budd Baer Subaru staff started toward the door, they graciously stopped to thank The Leukemia & Lymphoma Society for the opportunity to partner on the Subaru Loves to Care program for a second year, and said they were honored to make an impact in their community.
---
LLS Donation - Nicole S
Subaru Loves to Care, Budd Baer delivered Cards, Arts & Craft Kits, and Blankets today to the UPMC Cancer Center-Washington,PA. Thank you to those who filled out the cards and are spreading hope to those who received them.
---